K11 Artist KLUB is a unique platform where artists and art lovers converge to interact and build dialogues that boost the development and appreciation of art.
Here the artistic community shares and embraces creativity as they look for new collaborations and partnerships.

Art lovers are also invited to K11 art events. Riding on K11's core values – Art • People • Nature – K11 Artist KLUB strives to bring people together and raise cultural and environmental awareness through a diverse range of events including exhibitions, artist talks, discussion panels, design workshops and live music shows where members can enjoy and appreciate art together as a community.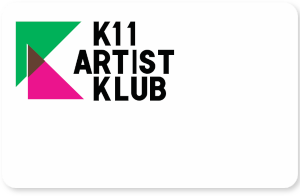 MEMBERSHIP TIER
Complimentary Membership (Permanent)
Age 12 or above (with proof of identity)
Complimentary KLUB 11 Registered Membership
Discounted admission to exhibitions
Bimonthly calendar of member programmes and events
Student Membership (12 Months)
Age 12 or above (with proof of student identity)
Welcome / Renewal Gift: Art gifts (valued at HK$250)
Complimentary KLUB 11 Pre-Membership
Unlimited admission to exhibitions (ticket price below HK$50) at K11 MUSEA and K11 Art Mall
Member-exclusive hours at chi K11 art space every day
Exclusive previews of exhibitions
Exclusive Art Tour with Artists / Curators
Invitation to Thematic Art Night
Priority seats for all KULTURE11 programmes
VIP seats for Artist Talks
Bimonthly calendar of member programmes and events
10% discount on K11 KULTURE ACADEMY Art Infinity Art Lab courses* (Extra 5% discount by introducing a new member)
20% discount on K11 KULTURE ACADEMY Art Keen workshops
Priority purchase of limited edition art products
Individual Membership (12 Months)
Age 12 or above (with proof of identity)
Welcome / Renewal Gift: Art gifts (valued at HK$250)
Welcome / Renewal Gift: Choose from 1 of the following: a) 2 Art Fair tickets (valued at HK$500), or b) Complimentary Art Lab course from the Faculty of Art Infinity at K11 KULTURE ACADEMY (valued at HK$500)
Complimentary KLUB 11 Pre-Membership
Unlimited admission to exhibitions (ticket price under HK$50) at K11 MUSEA and K11 Art Mall
Bring along 1 child aged below 12 to all exhibitions at K11 MUSEA and K11 Art Mall
Complimentary Art Fair Tickets
Member-exclusive hours at chi K11 art space every day
Exclusive previews of exhibitions
Exclusive Art Tour with Artists / Curators
Invitation to Thematic Art Night
Invitation to exhibitions' opening parties
Priority seats for all KULTURE11 programmes
VIP seats for Artist Talks
Bimonthly calendar of member programmes and events
10% discount on K11 KULTURE ACADEMY Art Infinity Art Lab courses* (Extra 5% discount by introducing a new member)
20% discount on K11 KULTURE ACADEMY Art Infinity Art Lab courses during the birthday month
Priority purchase of limited edition art products
10% off at MoMA Design Store, K11 MUSEA
10% off at K11 Design Store, K11 Art Mall
ARTIST KLUB
Year-round Privileges